It's not every day of the week you get invited to a palace for a new years reception. Well at least I don't.
The portrait I made of poor Yana shortly before she froze to death was selected as UNICEF Photo of The Year in 2005, and I was invited to Berlin to collect the award.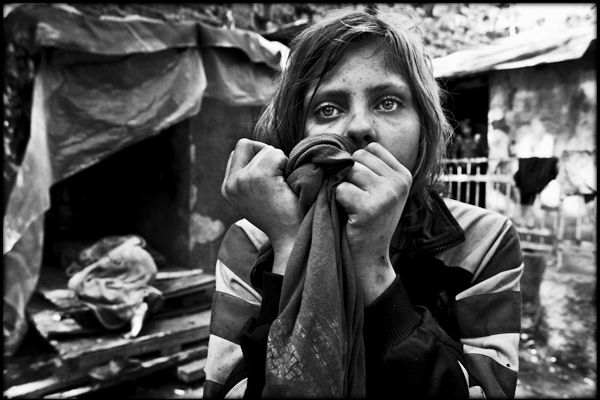 The award was presented to me by the then patron of UNICEF Eva Luise Kohler, who is the wife of Horst Kohler, German President at that time.
Anyway, it was a wonderful experience and I genuinely felt, and still do feel, moved that Yana's life was being remembered in such a way. It was very clear to me that the photograph I took and the story of Yana's tragic existence had a big impact on everyone there, not least of all Mrs Kohler. A few weeks later I received a phone call from Mrs Kohlers assistant, Alex. He asked if I would take Mrs Kohler to Ukraine to see first hand where Yana had lived and to introduce her to people on the ground. I was completely shocked – but incredibly honoured and I soon accompanied Mrs Kohler to Odessa.
Mrs Kohler showed tremendous genuine interest, concern and compassion for the homeless children and individuals we met. It was incredible, and was not simply a sightseeing visit. Mrs Kohler's actions really made the "Besprizorniki", the Neglected Ones, a topical issue within Ukraine. The whole chain of events brought home to me how powerful photography can be and how a single image can unite people and crystalise their collective energies to a common good.
After a few days I returned home and towards the end of the year I received a very simple blue invitation through the post. Written in German I had no idea what it said so enlisted the help of a very dear friend Angela Rupprecht who rather excitedly told me that Mrs Kohler had invited me to a wee gathering at Bellevue Palace in Berlin. Fancy! Now, those that know me will know that I wouldn't be your first pick for a date like that – but I was on my best behaviour and with polished shoes and kilted swagger duly attended the palace reception. It was an incredible mixture of people, and an event I felt was entirely purposed to connect individuals and germinate positive endeavors – but I'll come back to that.
As the event drew to a close people started to head for the main doors. It was very grand, very ornate and as I kept chatting and moving along I realised that as people reached the doors they were announced formally by name, thanked and then invited to come forward to enter a private limousine. "Oh ya dancer!" I'm thinking. Where will I go? What sights to see in my private limo…and then I noticed Alex, smiling somewhat awkwardly at me and gesturing for my attention. I discretely excused myself from the queue and on presenting in front of Alex knowingly acknowledged "no limo for me then?" I had joined a queue for dignitaries. We smiled about it and I ended up in the guardroom drinking coffee whilst the Berlin equivalent of a fast black was summoned.
One of the men I met that night was Heiko Jungnitz who told me of work he did in Madagascar with street children and after exchanging emails I travelled out to Madagascar to see Zaza Faly. I had to cut my trip very short as my own son fell ill whilst I was out there – but nonetheless made a small set of images on what is an amazing community based project to provide essential services to the needy. The project provides health, educational and outreach support in Antananarivo, Madagascar.